Industrial
Industrial gearboxes are often required to perform in aggressive operating environments. Reliability and efficiency are frequently key specification requirements.
Low noise and inertia are important. We have a thorough understanding of duty cycles over which industrial gearboxes must deliver a fault free performance.
We have extensive experience in the design of gearboxes for large industrial applications.
Typical applications include:
• Power generation and Nuclear
• Horizontal and vertical offset gearboxes
• Co-axial gearboxes
• Low inertia gearboxes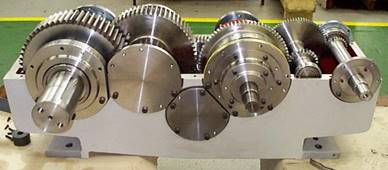 Compact Orbital Gears
Brynberth Enterprise Park, Rhayader, Powys, UK, LD6 5EW
Call Us: +44 (0)1597 811676